Gimme some sugar, baby*
Oh how I love me some Bruce Campbell. I just finished watching
The Adventures of Brisco County, Jr.
on DVD. It was a GREAT series - why all the good T.V. shows end up getting canceled (

Arrested Development

) and how the lame ones keep airing (

ER

,

The Bachelor

,

Desperate Housewives

) I will never understand.

No worries, Bruce is back to save the day in

Burn Notice

. Hail to the King baby.

I have a serious crush on Bruce Campbell circa 1994. I am such a sucker for tall, dark and cowboy.
*So who is Bruce Campbell? For those of you who haven't seen the theatrical masterpiece that is
Army of Darkness
, it's the movie that made Bruce Campbell famous. It's also one of my favorites of all time. Some people think this movie is "dumb" - but nothing could be further from the truth.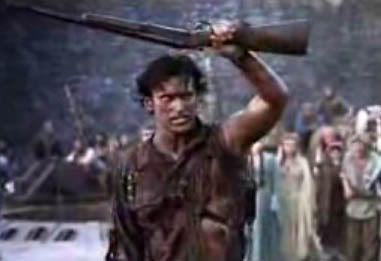 "Alright you primitive screwheads, listen up.
THIS is my boom stick!"